"IN REHABILITATION THE 80% OF KNOWLEDGE IS ANATOMY,
THE REST ARE JUST TECNIQUES…"
The learning of anatomy is commonly done by drawn sheets or descriptive text. Nowadays it also exists lots of interactive anatomy 3D models to help learning. These models allow us to memorize which structures we find, where are them and which is the relation between them. However, this methodology does not allow to understand in a clear way the textures of mechanics: how does it move, cinematics and the mechanic load that implies: the kinetic.
An excellent way of learning and understanding anatomy is through dissection in anatomy laboratory, but it is about perishable information that can not be understood as a model. Having 4D models allows the professional to experiment with the sensation of movement while being able to see and touch it. The harder to discover is why structures have the shape they have and how they work.
In MAPS Therapy we believe that having building 4D models will allow the user to learn anatomy while building it. Any error in the construction will determine an alteration in the function detectable almost immediately. To detect those errors and be able to correct them will allow the student to integrate anatomical knowledge in a much clearer way.
This method of building anatomy is a way to learn the normal mechanics and the pathomechanics. Moreover, at the end of the building process you have different anatomic models that move practically in a real way, and that it is a fantastic pedagogical resource for students and professionals to better understand the anatomy and for patients to better understand their symptoms.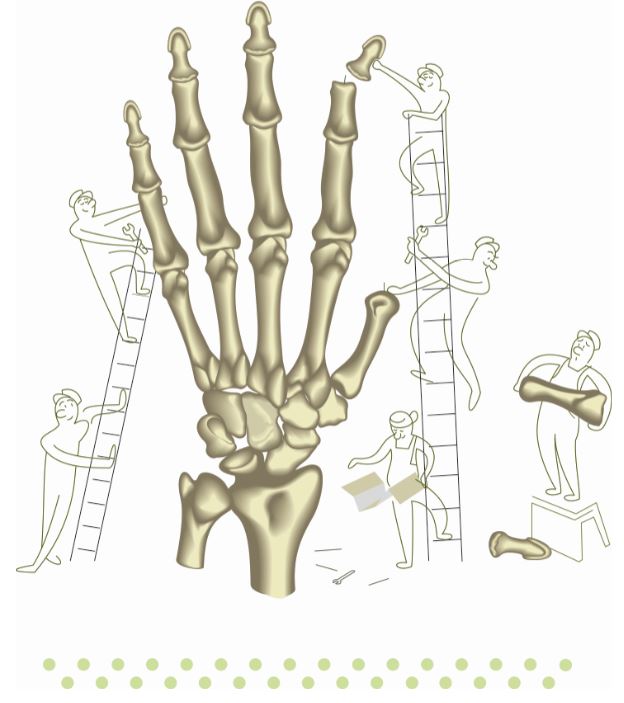 Each kit corresponds to a functional unit and it is presented in a box with the necessary material to be able to build different models. To assemble all possible models, various kits must be purchased.
1. Bones corresponding to the model
2. Base of the model
3. 2 short rods for each bone model for stabilization of the model in the MAPS table
4. Articular sufaces templates in Orfit ECO material
5. Orficast to build ligaments and capsules
6. Laces for the construction of tendons
7. The instructions for use, with the links to the videos that allow you to build the models